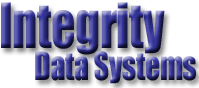 | | |
| --- | --- |
| | Kyle Geiger is the founder and president of Integrity Data Systems. After 9 years at Microsoft Corp., Kyle formed Integrity Data Systems in order to write easy-to-use software for "real people" (non-technical people) in business and non-profit organizations. In addition, he has been able to devote himself part time to volunteer efforts to bring computing expertise to those who could not otherwise afford it. Kyle has over 25 years experience in the computer industry, specializing in database and Internet technologies. |
Kyle was the architect of Microsoft's Open Database Connectivity (ODBC) and the author of the Microsoft Press title INSIDE ODBC. Kyle had several roles at Microsoft, including development manager and general manager for ODBC. After a year's sabbatical to write Inside ODBC, he joined the Internet Information Server (Web Server) team and helped design the Internet Database Connector and later, Active Server Pages. Active Server Pages has become an extremely successful platform for building web applications, and combined with database expertise, provides powerful solutions for nearly any business or scientific problem. It is the core technology used by Integrity Data Systems for building applications.
Kyle has been a featured speaker at database trade shows and events. Kyle also served as the first chairman of the SQL Access Group's API/CLI Technical Committee. Prior to joining Microsoft, Kyle was a software engineer at Wang Laboratories, where he worked on numerous desktop database products. He holds a masters degree in software engineering from the Wang Institute of Graduate Studies and a bachelor of science degree in computer science from the University of Washington.
To contact Kyle at Integrity Data Systems, call (425) 298-5694, or email kyle@integrityds.com